This summer I found these sweet little Pilgrim candles at a garage sale. I was excited when I saw them. They remind me of some of the candles my mom and grandma had when I was a little girl. As you know, I love vintage and I have been wanting a few more Thanksgiving decorations. I really don't have much to put around the house in honor of Thanksgiving. I've been trying to be more intentional about celebrating Thanksgiving and all that we are blessed with. Instead of it just being a day to eat (although that is lots of fun)! These little Pilgrims are sitting on my cook top in my kitchen. They just make me smile and help me feel festive too!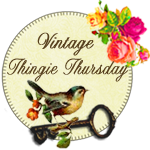 I'm participating in Vintage Thingies Thursday over at the
Colorado Lady
. Be sure to stop by to see lots of other vintage treasures.